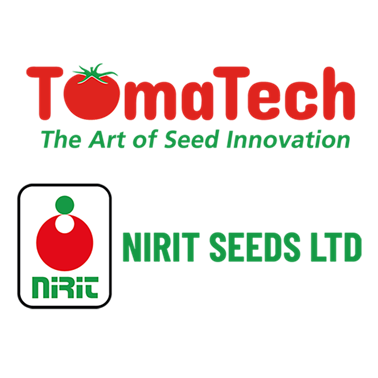 Bedrijfsprofiel
TomaTech-Nirit is a dynamic and creative seed breeding company, based in Kfar Menahem, Israël and operates worldwide. Tomatech-Nirit is developing some of the most advanced tomato varieties available on the market today. Special emphasis is placed on breeding and developing varieties for heated greenhouses. Those heated greenhouses are mainly located in North-western and Eastern Europe and North America. The focus of the breeding effort will be on the development of tasty tomatoes in different colours and shapes.
To achieve those goals, Tomatech-Nirit is extending a branch in the Netherlands to develop new varieties for heated greenhouses.
In short, a challenging job with a lot of variety, independence and a chance to shape the future dinner table!
Functie omschrijving - Senior Breeder
Develop new tomato varieties that exceed the wishes of our greenhouse growers and customers.
Deploying modern breeding techniques to develop successful varieties.
Define criteria to select variations together with the trial officer and sales team.
Able to consult with the team of marketing and sales, growers and other stakeholders and translate their feedback into future breeding strategies.
Preparing and setting up cultivation trials and yield trial experiments to test the chosen variety in practice in consultancy with the team of marketing and sales at various locations within the market of growers in heated greenhouses.
Interpreting and implementing the results of the collected data from all phases of the breeding program.
Collecting fieldnotes on horticultural traits, both on inbred and hybrid materials including pathology traits together with the trial officer.
Planning and coordinating the transfer of population lines to seed production to support new product launches in agreement with the parental delivery process.
Cooperating on remote with the Israel breeding team and teams in other markets.
Reporting directly to the R&D Manager.
Functie eisen - Senior Breeder
A hand-on professional who combines a clear vision and solid knowledge on plant breeding with the ability to translate market needs into new varieties.
Function requirements
PhD or master degree in plant breeding, plant sciences or equivalent education at WUR, HAS or equivalent.
In-depth knowledge in the field of genetics, plant biology and plant breeding.
You have been working as a breeder for at least 3-5 years, preferably in tomatoes, other fruit vegetables or crops that are grown in heated greenhouses.
You are experienced with modern breeding techniques and the use of molecular markers.
You are able to maintain long-distance working relationship and can prepare and interpret clear reports, charts and tables.
You function well in multidisciplinary teams and work also independently.
Traveling frequently within Europe, but also to Israel, North America and Canada is required for this position.
Able to speak and write English fluently. Speaking Dutch is a plus.
Competences
Able to communicate with a diversity of stakeholders and extract their wishes to use in your breeding program.
You are enthusiastic with a hand-on spirit, a strong vision and the ability to make strategic choices.
Analytically strong, thinks in a solution-oriented way, sees and handles challenges instead of problems.
Efficiently analysing breeding data and market trends and translate them into targeted breeding projects.
You have experience with the relevant IT applications.
Standing firm, and always focussed on connection with colleagues, growers and other stakeholders.
You can give and receive constructive feedback to the stakeholders.
Aanbod
TomaTech-Nirit offers a challenging position to really contribute to the future success of the company. A job with a lot of freedom and self-motivation within a dynamic and growing company. The salary range for this position will be between €60.000 and €80.000 per year.
Interesse in Senior Breeder?
TomaTech-Nirit has outsourced the Recruitment and Selection for the vacancy of Senior Breeder exclusively to CeresRecruitment. If you want to apply, please click on the application button or go to our website www.ceresrecruitment.nl.