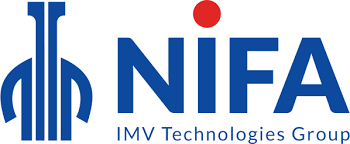 Company
Our client NIFA Technologies, located in Leeuwarden, is a specialist in the field of Artificial Insemination (A.I.) and Embryo Transplantation (E.T.) and part of IMV Technologies. Their devices and products used for several species of animal and human purposes lead to the highest possible fertility results. Product development and validation takes place in consultation with IMV France and in close collaboration with preeminent universities.

The IMV Technologies Group founded in 1963, benefits from a truly international footprint with close to 90% of sales outside of France across 120+ countries, with regional manufacturing capabilities to serve the foreign markets. They place the well-being of their more than 600 employees and their customers, the welfare of farm and pet animals, the preservation of biodiversity and the protection of the environment at the heart of their values. During the past several years, they have initiated a certain amount of actions to support these values.

In order to strengthen its position and achieve its ambitious plans, NIFA is looking for a Key Account Manager.
AFL Executive Search will assist NIFA in this search.
Function description - Key Account Manager
Your main tasks and responsibilities
In this challenging and strategic role you are responsible for handling the most important accounts. As Key Accounts make up the highest percentage of IMV Technologies' revenue, you must build and maintain a strong relationship with the client.
You will be the lead point of contact for all Key Account matters, anticipate the Account's needs, work within the company to ensure deadlines for the client are met, and help the client succeed by understanding its value creation process. You will also expand his accounts' share of wallet and develop new relationships with potential future Key Accounts. Besides travelling in Benelux also from time to time some international travel within Europe is required and to global HQ in L'Aigle in France. You will report to the Global Sales Director.
Your profile - Key Account Manager
Ideally, you have a higher degree in Animal Science, Agronomy, Agribusiness, Veterinary and/or Business Administration.
Proven experience, at least 5-10 years minimum in account management, with the ability to sell value
Animal reproduction or genetics background is a big plus.
Ability to navigate a multicultural environment both internally and externally.
Bilingual English and Dutch mandatory, any other language is a plus (German/French).
The ability to understand scientific topics that are relevant to NIFA's field.
Good computer skills, including proficient use of Excel, PowerPoint video conferencing tools etc.
Strong organizational skills and project management experience.
Strong commercial drive and the ability to shake the status quo.
Location
Netherlands based with some international travel in Benelux, Europe and to global HQ in L'Aigle, France
What can you expect from NIFA Technologies?
A challenging and commercial varied role as part of a leading company in reproduction technology.
Appropriate compensation level and benefits package (bonus, company car, pension plan, phone, PC).
This job gives you the room for initiative and offers you the prospect of a dynamic career within a company committed to growth.
Interested in Key Account Manager?
If this job sounds attractive and you meet the profile please send your curriculum vitae to info@aflsearch.com
For more information about this job you can also contact Jos Douven on +31 (0)6 5194 1954 or Sylvain Serra on +33 (0)6 3100 5831.
All further details about NIFA and IMV can be found on their websites Nifa and IMV technologies
More info about AFL Executive Search: AFL Executive Search
There is an exclusivity agreement between NIFA Technologies and AFL Executive Search GmbH for this search. We therefore kindly request you to contact us if you have questions and/or you want to apply for this job